A simple process that anyone can use to stop the negative feeling you get when dealing with certain people.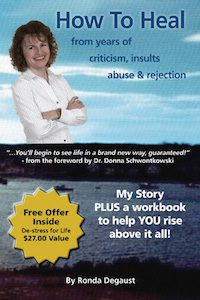 Have you been the victim of criticism, insults, abuse and rejection?
Do your emotions suddenly and overwhelmingly rush to the surface whenever others criticize or insult you? 
And do you often hold back from being the real you due to fear of being rejected or criticized?
The pain you're experiencing was instilled by others long ago. Yet, it still lives inside you. Echoing all the reasons YOU can never have, be or do as much as you want to have, be or do.
The time has come to finally experience the life you've been missing all these years.
"This is not just another 'solve-all-your-problems-by-thinking-positive-self-help-book' … readers will reap the rewards (and) journey to healthy, conscious and joyful living."
Ronda Degaust is an Internationally Certified Trainer of Neuro-Linguistic Programming (NLP) and a Certified Personal Coach.
Using her specialized skills, Ronda helps her clients address and resolve personal issues enabling them to live happier, healthier, and more productive lives.
She accomplishes this by working with clients to eliminate negative emotions, improve focus, concentrate on life priorities and remove barriers to success.
Through this process, Ronda skillfully guides clients to achieve their life potential.
"I realized this book is a very useful tool for many individuals as well as professionals. In my profession, this book will be an easy read for my clients. I believe … a way for clients to become unstuck in their present day challenges and help move them forward to a very productive life. The subject matter is one that most individuals can relate to about themselves, family members and friends. If it does not relate to you it may help you understand others and their behaviors; I recommend you read this book."

Early Days - Sadness, Pain, Confusion And Fear
Ronda's life story starts with a childhood mainly veiled in sadness, pain, confusion and fear.
Her problematic young adulthood shows how her childhood shaped her future course and the unconscious choices she made.
Journey along with Ronda to see her thirst for change, knowledge and personal growth. Instead of becoming bitter about the hand she was dealt, see a woman who wants to take responsibility, learn and move forward.
See her reach inside herself for the determination and reach outside of herself for the tools she needs to heal. Reap the rewards of her journey to a healthy and joyful consciousness.
"A beautiful book – you show how our thoughts/beliefs hold us back, and how we now can do something about it, the results are wonderful. I would recommend this book to anyone who has the courage to look deeply within, with love.
FREE With Ronda's book the De-stress For Life video: $27 value
When you purchase The How To Heal book in a paperback edition, you also get the FREE De-stress for Life downloadable video program.
Feel at peace with your life
Stay balanced and grounded
Achieve mental clarity
Perform better under pressure
Sleep better
Improve your overall health
"The "How To Heal" book was such an easy read, yet full of amazing insight! Ronda's transparency helped me to process and somehow simplify my own painful past. The workbook strategies had a HUGE impact on my willingness and ability to heal ugly, old emotional wounds. It's also helpful in preventing current situations from becoming old wounds. Every therapist should recommend this book!"
Readers Tell Their Experience Below - 8 Videos
And see how others have benefitted from Ronda's book – How To Heal from years of criticism, insults, abuse & rejection.
Listen To Stephen's Interview Of Ronda
Ronda Degaust's "How To Heal Book" Radio Interview With Stephen In Halifax Nova Scotia
P.S.
Ronda's book is an excellent training guide for NLP practitioners, therapists etc.
Learn from her extraordinary skills as a Master NLP Trainer and Coach by merely following the straightforward steps she lays out in this book.
Get How To Heal from years of criticism, insults, abuse & rejection for only $19.97 USD
Don't wait any longer to finally experience the life you've been missing all these years. Buy This Book!