(Ronda and Bob, now Master NLP Trainers, relocated to London, Ontario, in 2010 after creating the very first Certified NLP Training Online.)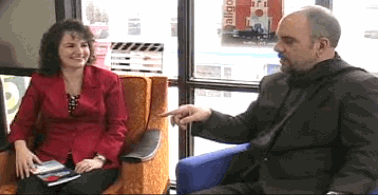 OCTOBER 2002 – BY JENNIFER MACMULLIN
We all have life's problems, and for nine years, I've been searching for a solution to mine.
Being a resourceful person, a previous healthcare worker and editor of a health and wellness community newsletter, I assisted others in their search as well as myself on a journey towards overall wellness.
Throughout the past nine years, I have struggled with my health, battling depression, mood swings, anxiety, digestion problems, chronic pain, fatigue, insomnia, and most recently dealing with environmental sensitivities and candida.
Year after year, I saw many doctors and sat across from several counsellors. I was labelled depressed and have tried lots of pills, but still no major change to my life's problems.
Alternative Treatment To Life's Issues
I decided to seek out alternative treatments, and so the search began.
I had to take my health and life into my own hands, take responsibility, and track down health professionals who would take me seriously.
I have done Craniosacral therapy, Reflexology, Aromatherapy, Massage, Reiki, Acupuncture and Psychosynthesis, and still little change for the past fourteen months.
I kept searching throughout the community when I finally came across a business card that advertised "Emotional Pain & Stress Relief." My life's problems could easily fall under that, I thought.
After checking out the website and being intrigued by the process, I called Ronda Degaust of Life Potential Developments.
NLP Coaching Knocks Out Life's Problems Fast
Ronda is an NLP Coach & NLP Trainer. In her coaching practice, she deals with Emotional Pain & Stress Relief – mainly Self-Esteem. I asked if she could help me find a new life strategy since the one I had wasn't working.
Life Coaching using NLP (Neuro Linguistic Programming) will mean many different things to different individuals; Ronda uses a variety of techniques depending on the individual, their blocks, and their situation.
I found she takes the time needed to reinforce the new thoughts and teach me a new way of learning and a positive way of getting better. For me, it has been what I call "blowing my old belief system out of the water."
The Power Of Destructive Beliefs
I had beliefs like "you're not good enough," "smart enough," and "not wanted." These self-defeating beliefs I formed set me on a path to fulfill these beliefs about myself. I had formed distorted images and beliefs that Ronda has helped me totally transform into positive ones.
People may say that it isn't real, but every minute of every day, we create our own reality through our thoughts, our words and our actions. Each of us can change our feelings about our past and create a present and future that is worth living.
After years of searching, sitting in counselling sessions and doing a variety of therapies, I found Ronda Degaust. Her process helped me break through the one thing that has held me back all my life: my beliefs about myself.
You Have Powerful Inner Abilities
Ronda sees her job as assisting individuals to increase choice by removing the blocks that are holding them back from moving forward in their lives. She is a dedicated, insightful individual who believes in what she does.
She sees people as having resources and an inner ability to heal themselves and get past their life's problems.
Ronda also teaches this process to others with her partner, Bob Clarke, in their NLP Practitioner and Coaching Certification Training Program. The American Board of NLP and The Canadian Association of NLP recognize their Institute.
This process can be used in any field, such as educators, salespeople, managers, counsellors, and therapists, to name a few.
Quickly Overcome Life's Issues
After doing two sessions, for the first time, I was able to say to myself, "I am worthy," and felt an excitement that I would be able to achieve anything from here on out in my life despite my current situation.
Ronda showed me a new way of seeing myself and taught me to develop a relationship with my unconscious mind or intuition and valuable life skills.
With these breakthrough sessions, it is possible to quickly make the changes needed that are blocking your ability to move forward with your life.
If you are ready to overcome your life's problems, contact Ronda for a free consultation for more info. You'll be glad you did!