Ken Blackburn: Success Strategies Interview by Ronda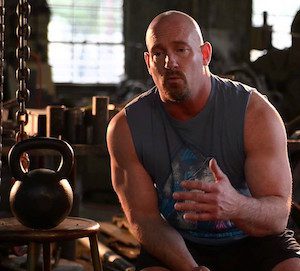 Ronda's guest on Success Strategies with the Experts is all-around fitness and martial arts training expert Ken Blackburn. Ken is the Director of Operations with the International Kettlebell & Fitness Federation and travels the world teaching certification workshops. He strongly advocates helping children improve their fitness, self-confidence and overall health. Listen now and start building mental muscle.
The Goal Of Being Congruent
(Scroll down to see Bonus NLP technique before listening)
Bonus NLP technique!
Have an intent before reading, listening, or watching information.
I.E., ask yourself questions about what you want to gain from the information. To help you out, we have created some questions below.
Ask yourself these questions before listening to the audio:
● What component does Ken emphasize that most competitive athletes and general fitness enthusiasts neglect drastically reduce results?
● What six other things does Ken's kettlebell training system focus on besides just fitness?
● What is the importance of mind-body holistic fitness?
● What's the importance of being congruent in your expectations, according to Ken?
● What's the importance of mindset?
● Who are the people who usually fall out of exercise programs after a
short time?
● What does Ken consider healthy fuel for a goal? What does he not
consider healthy fuel for a goal?
● Why does Ken think too much focus on any outcome is bad?
● Does Ken believe there's a magic pill that will counterpunch an
unhealthy lifestyle?
● What process does Ken say we have to do when changing
behaviours to a healthy lifestyle?
● What are some variables that will determine your exercise outcomes?
● To improve your fitness maximally, what else must you do?
● What types of comments are obvious signs that something is going
on with the person preventing them from being successful?
● Is over-training better if you want to speed up your fitness?
● What were some of Ken's big mistakes early in his training
career?
● Over-communication as a trainer is the cure for what, according to
Ken?
● What was Ken waiting for before starting his own fitness business?
● What did Ken mean when he said, "Save nothing for the swim back"?
● Ken's business partner had what special skill?
● What were some of the limiting beliefs and negative thoughts that
Ken had when he started his fitness business?
● What did someone say about conviction to Ronda in the early days of
her NLP coaching career that was so helpful?
● Ken says not to reinvent the wheel; find someone who is successful
doing what you want to do and then do what?
● Anchoring, reframing, and adjusting sub-modalities are all
things we can use to maximize what, according to Ken?
● How does Ken use a metaphorical car to explain the value and
benefits of knowing NLP?
● Can you coach yourself with NLP?
● What other areas of the NLP certification course did Ken find so
much fun?
● People think it will take therapy and a lot of money to make a personal
change. But Ken says it's practical and efficient to use NLP to assist in
making changes. What are some of the points he covers?
● What does Ronda say changes instantly?
● What is the little game Ronda plays with herself when dealing with
difficult people?
● What does Ken say is behind his using the words "always and
never"?
● Ken said, ultimately, the things that didn't go so well in his life were a
tremendous what?